Ripples
Most of us will never have our name lit up in lights.  We will not be recognized for our scientific breakthrough.  Our contribution to mankind won't be printed in every history book.  We probably won't even make it into the local newspaper – except upon our demise!
So -
Why do you matter?
What difference do you make?
It can seem that no matter how hard we try, we aren't good enough, we can't get everything done, we aren't making a difference in the world and even sometimes, that Satan is winning the battle.
In truth, you have far more power than you realize.  Not only does every person make a difference – we are responsible for that difference.  This doesn't usually happen in one amazing event. We make a difference each day by who we are and what we do.
What Elder Ballard says below of sisters is true for all of us.
"Every sister who stands for truth and righteousness diminishes the influence of evil. Every sister who strengthens and protects her family is doing the work of God. Every sister who lives as a woman of God becomes a beacon for others to follow and plants seeds of righteous influence that will be harvested for decades to come. Every sister who makes and keeps sacred covenants becomes an instrument in the hands of God."    Elder M. Russell Ballard, Women of Righteousness, Ensign April 2002.
If you think back on your life to the people who've made you feel good – or bad – you'll probably agree with me.  Were those people famous?  Did they raise millions of dollars?  Or donate a lifetime of  hours in service?  Generally, no.  The people that touch our lives – that change our world – are everyday people.  They are you and me.
Each of us make ripples in the lives of those around us, who then make ripples in others lives and so on.
It is impossible to live in this world and  not change it.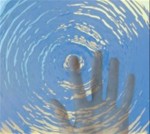 So, you WILL change the world.  You ARE changing the world.  The only choice you have is what kind of difference you will have.
Make it a good one!
Doctrine and Covenants 64:33-34 "Wherefore, be not weary in well-doing, for ye are laying the foundation of a great work.  And out of small things proceedeth that which is great.  Behold, the Lord requireth the heart and a willing mind; and the willing and obedient shall eat the good of the land of Zion in these last days."
~ Tiffany Birrell